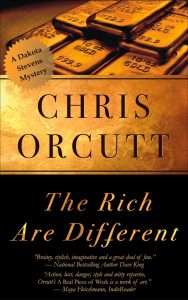 This is the second novel in Chris Orcutt's series about us. It's available in print, and for Kindle and other ebook platforms.
What is The Rich Are Different about?
Rather than try to outdo how Chris Orcutt describes the novel, here is a snippet from his own synopsis:
"The Rich Are Different, the second novel in Chris Orcutt's Dakota Stevens mystery series, explores the rarefied world of a Long Island heiress and her murdered brother who owned an Old West resort in Montana. Going undercover as actors in a make-believe mining town straight out of 1885, Dakota and his associate, Svetlana Krüsh, hunt down the man's killers, discovering a mother lode of a motive in the process.
"Like bullets from a Gatling gun, the suspects come fast and furious: eccentric heiresses, aimless party girls, greedy CEOs, catty thespians, sexy henchwomen, angry Native Americans, mysterious mobsters, menacing mercenaries, kinky housewives and contract killers. It's a classic case of East meets West as Dakota and Svetlana follow a trail of clues that takes the reader from the sophisticated setting of The Great Gatsby to the forbidding land of Pale Rider."
How true is The Rich Are Different to your actual case?
Well, the facts are the same, but once again Orcutt does glamorize our work a bit. For example, we were never whisked away in a suspect's Learjet. But we did get summoned by our client, as he describes well at the beginning of the novel, and we were driven to her Long Island estate in a Bentley Arnage T. (That was an incredibly comfortable automobile ride.)
Where can I get the book?
Check out the links on the sidebar to the right.