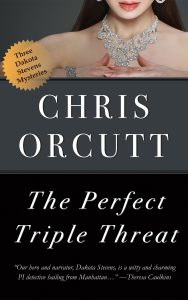 This is the fourth installment in Chris Orcutt's mystery series about us. In it, Svetlana and I appear in three of our early cases.
What's The Perfect Triple Threat about?
Rather than try to outdo how Chris describes the book, here's his own synopsis of it:
"Before they took down global conspiracies… See tough, wisecracking New York PI Dakota Stevens and his brilliant associate Svetlana Krüsh in three of their early cases.
The Perfect Triple Threat, the 4th installment in the critically acclaimed Dakota Stevens Mystery Series, features three novella-length mysteries that occur before or between the novels.
In this mystery trilogy, Manhattan PIs Dakota Stevens and Svetlana Krüsh solve cases in the Green Mountains of Vermont; Dutchess County, New York; and the mean and glamorous streets of L.A., tangling with chainsaw artists, seven-foot tall Native Americans, motorcycle gangs, ex-cons, crooked cops, nude celebrities, and Chinese gangsters.
'The Adventure of the Babysitting Detectives': While caring for a friend's boys over Columbus Day weekend, besides learning that childcare is not easy, Dakota and Svetlana find a number of mysterious items in the woods and uncover a conspiracy.
'The Mystery of the Vanishing Greenskeeper': A number of bizarre incidents at a Millbrook area golf course, culminating in the disappearance of the head greenskeeper, prompts the club's managing pro to call in Dakota to investigate.
'The Case of the Fake Reality TV Show': A Hollywood studio exec's daughter is arrested for an armed jewel heist, but she claims it was only the pilot of a new reality TV series. Trouble is, her fellow cast members and the producers are gone and can't corroborate her story. Dakota and Svetlana must team up with the head of studio security, sexy Barb Soames, to the prove the girl's innocence."
Where can I get the book?
Check out the links on the sidebar to your right.