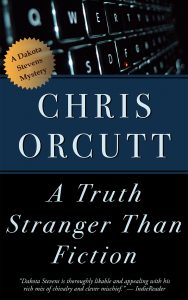 This is the third novel in Chris Orcutt's series about us. It's available in print, and for Kindle and other ebook platforms.
What is A Truth Stranger Than Fiction about?
Rather than try to outdo how Chris Orcutt describes the novel, here is a snippet from his own synopsis:
"A Truth Stranger Than Fiction, the 3rd novel in the critically acclaimed Dakota Stevens Mystery Series, delves into the bizarre, interconnected world of foreign spies and fangirls, mobsters and murderers, government bureaucrats and corporate profiteers.
A young woman hires Dakota for a simple missing persons case. But it only seems simple. Right from the outset, he and the young woman are accosted by a horde of people searching for the brother: government agents, thugs, mobsters, and two mysterious Chinese men.
In a case that leads from the streets of Manhattan to the woods of Upstate New York, to Boston and the shores of Maine, to Washington, D.C. and the Midwest–by foot, train, truck, boat and private jet—what begins as a simple missing persons investigation quickly devolves into the most difficult and personal case of Dakota's career.
And in the end, Dakota exposes a secret that literally has the power to change the world."
A
Will there be more novels based on your cases?
Yes. The fourth installment of our adventures, The Perfect Triple Threat, is now available.
Where can I get the book?
Check out the links on the sidebar to your right.