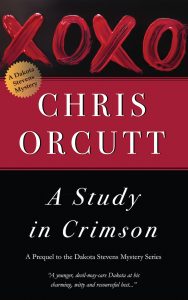 This is the fifth installment in Chris Orcutt's mystery series about us. It's the story of the case where Svetlana and I meet.
What's A Study in Crimson about?
Rather than try to outdo how Chris describes the book, here's his own synopsis of it:
A Study in Crimson, a prequel and the 5th installment in the critically acclaimed Dakota Stevens Mystery Series, shows a younger, devil-may-care Dakota at his charming, witty, and resourceful best.
Dakota  has just thrown off the shackles of the FBI and launched his own private detective agency. But it's not going well. His so-called cases are limited to tawdry divorce work, and his personal life is a shambles.
In short, Dakota Stevens is a hot mess.
Back to School…
Enter the Director of the FBI, who compels Dakota to go undercover at an Ivy League university. His task? To rescue a college coed from the clutches of a Svengali-like sex researcher.
Dakota Meets Svetlana…
While working the case, Dakota meets sexy international chess grandmaster Svetlana Krüsh. Svetlana, bored with her chess career, is seeking a new challenge. Dakota desperately needs an associate of her caliber, but the two get off to a rocky start.
Learning the PI Trade…
Can Dakota navigate a minefield that includes flirtatious coeds, passionate professors, hired thugs, and former FBI colleagues? Can he repair his personal life? Can he learn to trust Svetlana? And, most importantly, can he rescue the girl in time?
Where can I get the book?
Check out the links on the sidebar to your right.